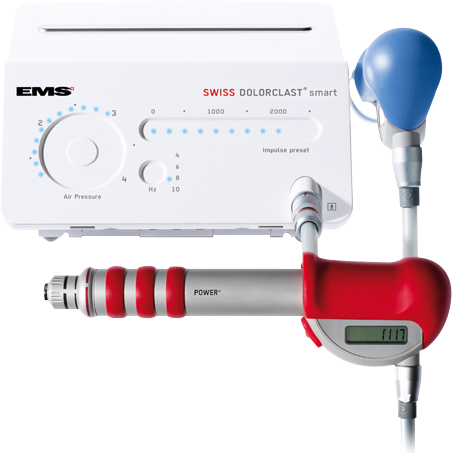 ONE SIZE FITS ALL
Swiss DolorClast
When it comes to extracorporeal shock wave therapy it's no exaggeration to say that the Swiss Dolorclast system really is in a class of its own. Highly effective for treating a wide range of musculoskeletal problems and soft tissue injuries, the Swiss Dolorclast method has been setting new standards in orthopaedic pain relief therapy since 1999, and has fast become a world leader. Specifically designed for orthopaedic use, this innovative system offers everything that you need for fast and effective extracorporeal shockwave therapy (EST).
Treatment is gentle and effective with pneumatically developed shockwaves delivered directly to the area of pain. The high pressure sound waves travel through the skin to stimulate the body's own healing powers. The frequency of the pulses can be adjusted where necessary in order to keep the treatment as short as possible. A treatment involving 2,000 pulses for example, takes as little as 5 to 10 minutes to complete.
The Swiss Dolorclast method can be used to treat many types of pain including tennis elbow, shoulder pain, golfer's elbow, bursitis trochanterica, patella tip syndrome, tibial edge syndrome, achillodynia, and painful heel.
Product Description
Benefits of the Swiss Dolorclast Classic
Affordable price
Highly effective system
Compact design which is easy to handle
Portable ESWT Unit
Simple installation and maintenance
Excellent cost-benefit ratio
High quality design
Low system maintenance cost
Low to high energy levels
Broad spectrum of indications
Pneumatically generated shockwaves
High treatment frequency
Easy and quick to operate and use
How your patients will benefit
Fast non invasive treatment
Negligible side effects
No injections, drugs, or surgery
Happy patients equal a successful clinic so why not invest in Swiss Dolorclast today! Call Medical Products Australia today to find out more!